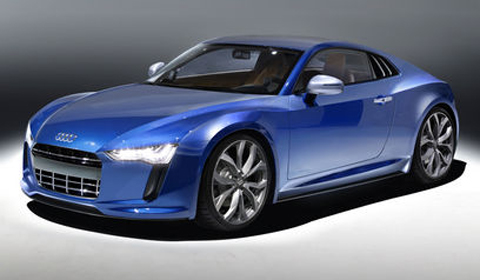 Once again rumors about small Audi mid-engined supercar has emerged. According to Auto Express magazine, Audi is closer than ever to approving development of the so-called R4. The new two-seat Audi will be positioned in between the TT and R8 and should rival the new Jaguar C-X16, Porsche Boxster or Porsche Cayman.
The news that the Audi R4 is in the works has been unveiled by the British magazine, citing some Audi insiders. The design of the R4 will be inspired by the E-Tron Spyder. The Audi R4 will be initially developed as a convertible, requiring only a top to be added for a traditional coupe.
At first the Audi A4 will come with a conventional engine, like the 2.5 liter five cylinder engine, producing around 400hp coupled with the quattro four-wheel drive. Eventually the R4 will also come as a hybrid integrated into the all-wheel drive system. An electric motor will sit at the front axle, with the engine in the middle. Because there is no conventional link between the rear and front wheels, a clever torque vectoring system will be employed to harmonize traction between the gas engine powered back tires and the electric motor activated fronts.
It is still unknown what platform the new performance car would use. A new mid-engined platform has been suggested, along with a smaller version of the R8's aluminium spaceframe.
The Audi R4 hasn't been officially given the green light. But as one insider said: "If the go-ahead was given today, it would take around three years to put into production."
More news will follow, so stay tuned!