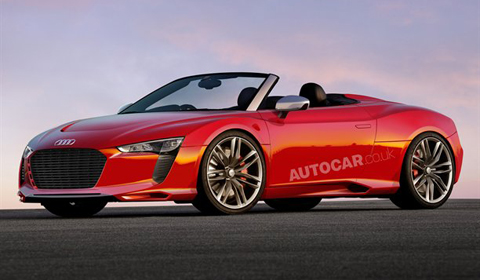 Audi is working on a new and small supercar which will form a significant part of the company's future sports car program. This new new mid-engined supercar will be named the R4. British magazine AutoCar has unveiled some details about this upcoming sportscar.
The Audi R4 was previewed by the E-tron Spyder concept and will be share its platform with new entry-level Porsche and Volkswagen two-seaters. The production version of the R4 will share major elements of its front-end structure with the third-generation Porsche Boxster. The R4's rear structure will be "radically different", according to one Audi source.
According to AutoCar, the most powerful R4 will come as a 350bhp version developed by Quattro GmbH. This top model will be powered and powered by the same turbocharged 2.5 liter five-cylinder engine from the RS3 and TT-RS, promising joyful performance figures like an acceleration from 0 to 100km/h in less than 5.0 seconds and a top speed of around 280km/h.
Inspired by the success of the Audi racing team at Le Mans, a diesel engine is under consideration as well. But most likely is that the R4 will be available with the twin-turbocharged 2.0 liter four-cylinder which will make its debut in the 2012 model of the A3. This engine should deliver at least 200bhp.
An electric version based on the E-tron could be in the works as well, but a full electric R4 doesn't have a high priority. Audi plans two gearbox options: a standard six-speed manual and a seven-speed S-tronic dual-clutch unit. A new, electronically-operated differential with torque vectoring to boost traction and make cornering more neutral is also under consideration.
To make sure there is space in the line-up without causing a conflict with existing models this new small sports car go on sale until after the third-generation TT, suggesting that the R4 is destined for production in 2014/15. Around the same the R4 could line up alongside the second-generation R8 supercar, with which it will also share styling themes inspired by the E-tron Spyder concept.