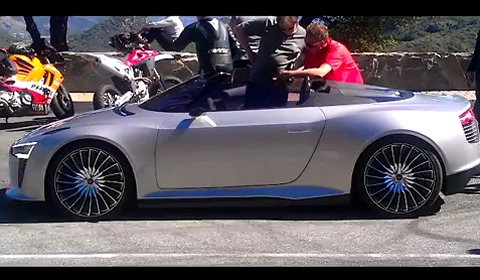 A YouTube member named colterh came across the Audi E-tron Spyder during a photoshoot close to his residence somewhere in California, USA. He stated:
At a place we hang out…they were shooting this new hybrid audi. Way cool. So I thought I would make a vid of my own. Enjoy!
The Audi E-Tron Spyder is a design study for an environmental friendly supercar. The design is very slick and the E-Tron Spyder features the latest in electric and diesel technology. This results in a Spyder that weighs only 1,450kg and does 0-100km/h in 4.4 seconds with an average fuel consumption of just 2.2 liter per 100 kilometers.
Check out the video right here!