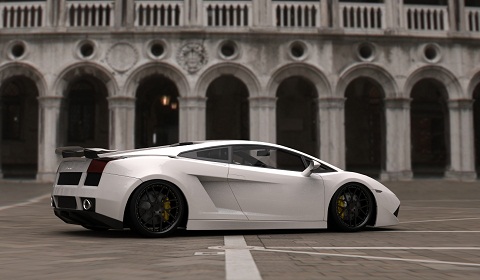 A new set of images has been made available for Japanese start-up BenSopra's first attempt at the Lamborghini Gallardo LP560-4. The car actually exist in real life, even though most of the photos feature a CGI rendering of the vehicle. It gets a new bodykit for the moment, as there are no official details, we can't speculate as to any performance enhancements.
BenSopra have added a sleek new bodykit to the Gallardo LP560-4. The front bumper has been replaced giving the Lamborghini a lower, deeper look than the standard factory finish. Contrasting black accents have been applied and BenSopra will charge you 699,930 Japanese Yen (6,631 Euros at todays exchange rate) for the part. A rear spoiler is the only other modification to the car. This is available for the same price.
Liberty Walk, Wald International and ASI are all big Japanese players in the same market as BenSopra. BenSopra definitely have strong competition. There's not much to say about the new items, so we'll let the photos do the talking.
If you're wondering what the name means, it translates from Italian literally to "well above". Perhaps this is a sign of things to come.