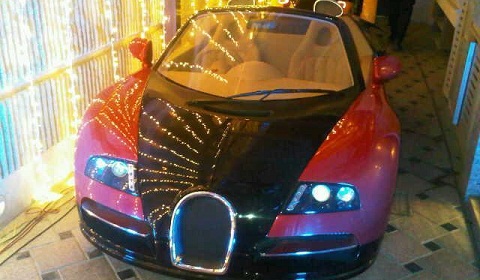 Our friends over at Teamspeed have had a thread running for a couple of days discussing a Bugatti Veyron replica spotted in Atlanta, Georgia. The thread has generated attention from further afield too. In fact, a number of replica's have been spotted including one from India.
To start with the grey example, this car was spotted in Atlanta, Georgia. It appears to be a Veyron Replica but we're unable to work out where it came from. We don't know what the base for this car is but several companies in the market offer, for as little as $ 24,000, a 1998 Mustang-based conversion using a 4.6 liter V8 giving out 225hp. If that wasn't enough then a $ 50,000 fee can get you two New V12 BMW engines installed into a tube chassis. However, with absolutely no details offered about this car's performance, it will probably be useful to know that kits can be sourced for the Corvette C5 and various Mercedes models too.
The second example, the red and white 'roadster' model is a little more puzzling. It's apparently owned by an Indian man who goes by the name VJ and lives in Dehli. As you can see from the picture, the car has pretty good company. The owner also has a Lamborghini Gallardo LP560-4, a Rolls Royce Ghost, a Can-am Spyder RS as well as a couple of Mercedes and a Range Rover. This replica is said to be based on the Tata Nano. We don't have any information to verify that but we are skeptical that someone with such a garage could want a replica Veyron with based on the 'worlds cheapest car'.
Our third Bugatti Veyron replica is included in the video below. This one is based on a 2002 Mercury Cougar. It was hand built by an enthusiast in Florida. The body is fiberglass and looks better than any of the other cars we mentioned above. It sold recently on Ebay for $ 79,000.
This isn't the first time we've written about Veyron replica's. Just a couple of weeks ago we presented you with this black and yellow example, built on a Honda Civic platform. Then there was a red and white example back in February. So if you've seen any others, feel free to share them with us below. If not, simply let us know what you think of the various examples we've gathered for you above!