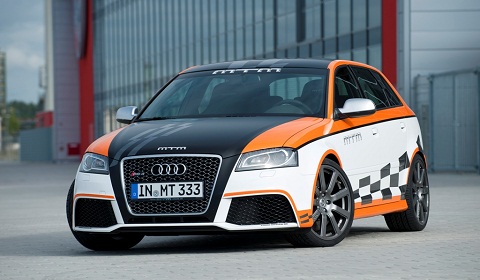 MTM have unveiled their next high-horsepower project base on the RS3 Sportback 2.5 TFSI. They have taken the four-door Audi compact car from 340 to 472hp, making it an incredibly fun and quick car to drive.
The five-cylinder engine has received a modified turbocharger, together with a new air supply and modified spark plugs. The final power figure is 472 hp and the maximum torque figure is somewhere in the region of 600 Nm.
A new Brembo braking system has been added. A new exhaust system has also been fitted to optimize airflow away from the engine and to release a more fitting soundtrack.
It took MTM engineers 10,600 euros worth of equipment and 15 hours fitting time to complete the project. The car has TÜV approval and is available for the public to order.
If you're looking for something a little less extreme though, don't forget that MTM cover a full range of modifications for the RS3 Sportback. Details can be seen on MTM's website, here.