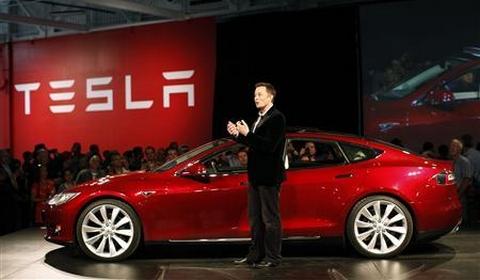 Last Saturday Electric carmaker Tesla Motors opened the doors of its factory in Fremont, California, for customers who have preordered the upcoming Model S of the brand.
During the walk around the CEO of Tesla Motors, Elon Musk, asked the visitors for their help and make the appearance of an electric car to look more civilized. He asked the crowd to talk up the car and announced Tesla would be introducing a faster Model S that goes from standstill to 100km/h in just 4.5 seconds, which is about a second faster than the current model.
Important for Tesla is to extend the niche brand that sells only the expensive Roadster sports car. The base model of the Model S will cost about $ 57,400 which is a bargain compared to the Roadster's base price of $ 109,000.
To refresh your mind we can tell you that the Model S will have three battery offerings designed to have a range of 160 miles / 257 km, 230 miles / 370 km or 300 miles / 483 km on a full charge.
Last but not least we learned that Tesla is planning to stop it's roadster production in January 2012 to concentrate themselves on the Model S. Later on, late 2013, the company plans to unveil its Model X as a SUV.
[via Reuters]