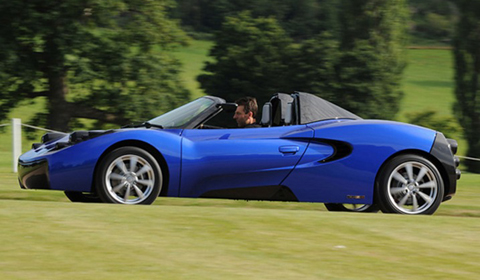 The Teewave AR.1 is a new electric sports car developed by Gordon Murray and Toray, a Japanese firm specialized in carbon fiber and supplier to automakers like Toyota, Nissan and Daimler (Mercedes). Gordon Murray is known for his major involvement in the designing and engineering the iconic McLaren F1 super car.
Murray was commissioned by Toray Industries to developed and build a prototype using the companies products. The result is the Teewave AR.1, a fully functional prototype of a two-seat electric sports car. Thanks to the aluminum alloy sub frame and extensive use of carbon, the car only weighs 850kg including the mid-mounted battery which weighs 240kg.
The drive train is derived from the electric Mitsubishi i-MiEV and produces 63hp and 180Nm of torque. Power is transferred to the rear wheels via single-speed transmission. The car is able to accelerate from standstill to 100km/h in 11.4 seconds and has a top speed of 146km/h. The driving range of a single charge is around 185km and charging takes six hours.
According to Gordon Murray, he has put a great deal of attention to the low center of gravity and suspension setup of this car. He claims this will result in an excellent ride and handling.
The Teewave AR.1 is just a prototype designed to showcase the products of Toray Industries. There are no plans for production, but some of the technology featured in this car will eventually end up in more conventional cars.