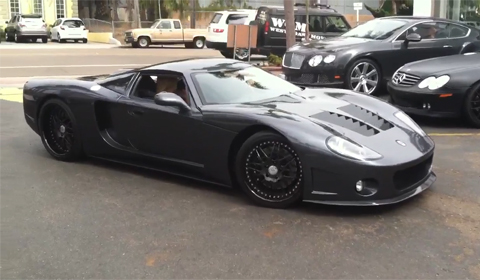 Factory Five is an American company that designs and manufactures assembly kits for replicars and sports cars. Their flagship is a supercar called GTM.
The GTM is a V8 powered, mid-engined car with a composite body shell and an aluminum and steel tube frame chassis. The car uses GM Performance engine, an engine with a wide variety of configurations and power outputs. The suspension, brakes and performance parts of the Factory Five GTM's are derived from the Corvette C5. The transaxle is taken from a Porsche 911.
According to Factory Five, the GTM accelerates faster from standstill to 100km/h than a Ferrari Enzo, Porsche GT, Saleen Twin Turbo S7, Ford GT, and a Lamborghini Murciélago.
In this video made by YouTube member Sbeer12 we can see a Factory Five GTM pulling out of Symbolic Motors in La Jolla, San Diego (California). What do you think of this car? Feel free to share your thoughts in the comments below.