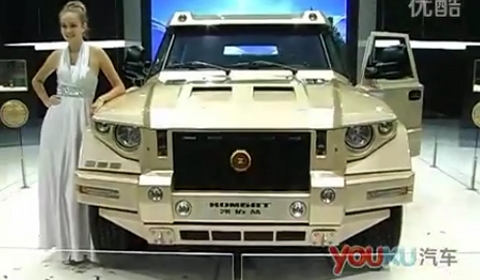 The Dartz Kombat debuted last week at the 2011 Chengdu Auto Show in China. The Latvian car builder also set the price tag on their unique armored vehicle. Like the car the price is also 'impressive': 9.18 milion yuan or 1.44 milion US dollar.
The Dartz Kombat is bullet proof, 7cm full body armored truck. It weighs over three tons. Power comes from a 8.0 liter eight-cylinder engine with 456hp, good for a 240km/h top speed. Figures of course according to Dartz.
The video below shows the stand at the show. The display included a lovely lady, the gold plated Bellperre mobile phone and a bottle of Wodka, RussoBaltique Vodka to be precise. The bottle is nothing more than 1,7 liter of Vodka inside a 7,8 kilograms Golden bottle. The drink is best served with RussoBaltique Caviar by Mottra, according to Dartz.