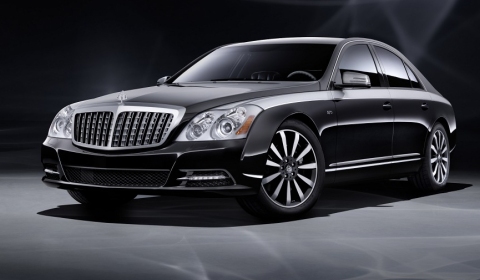 Maybach unveiled a special one-off at the Frankfurt Motor Show. The German manufacturer of luxury cars officially presented the Maybach Edition 125!.
The Maybach Edition 125! was created as a celebration of the 125 years of the automobile and its parent company Mercedes-Benz. It also honours the founder and ingenious designer behind the brand, Wilhelm Maybach.
The Maybach 125! displays many exclusive and new individualisation options. The high-end luxury saloon is painted in newly created special colours Tahiti Black with constasting Patagonia Silver. Other highlight include the contour lighting and the double-M in a curved triangle, laser-engraved into the front armrest. These are operated using an innovative touch-sensitive piezo control on the centre console.
The "Maybach Edition 125!" also displays other typical features, including a glove box lid with stitching of the signature of Wilhelm Maybach, seats with a sumptuous lozenge pattern design, trim elements in carbon fibre silver/black piano lacquer, matt black 20-inch wheels with high-sheen spokes and the contrasting surfaces of the radiator grille.
Furthermore the Maybach 125! features a subtle modified bonnet and front which gives the Maybach saloons an even broader look. Daytime driving lights featuring LED technology and bordered with a chrome insert have been integrated into the outer air intakes. The über-saloon also received new exterior mirrors.
Maybach also offers new high-sheen 21-spoke 19-inch wheels in titanium silver for the Maybach 57 and 62 models. The Maybach 57 S and 62 S models will in future be shod as standard with new 12-spoke 20-inch wheels in noble sterling silver.
Also the inside received a small upgrade, there are three new interior appointments with different leather, carpet and headlining colours. The rear reclining seat which has only been available in the Maybach saloons with a long wheelbase up until now can, with immediate effect, also be installed on the front-passenger side in the rear of the Maybach 57 and 57 S models.
For those interested, the interior can now be fitted with Swarovski crystals and a high-quality flacon perfume atomiser, which was reserved only for the special Maybach Zeppelin model. Further personalization is made possible via a wide range of exclusive high-tech gadgets and options.
Maybach also increased the output of the 6.0 liter V12 supercharged engines of the Maybach 57 S and 62 S by 18hp to 630hp, with a decrease in the consumption figures and the CO2 output. The output of the 57 and 62 models remained unchanged, whilst consumption and CO2 output was also cut here. The top speed of the 57 and 62 remains unchanged at 250km/h. The top speed of the 57s and 62s is also unchanged at 275km/h.