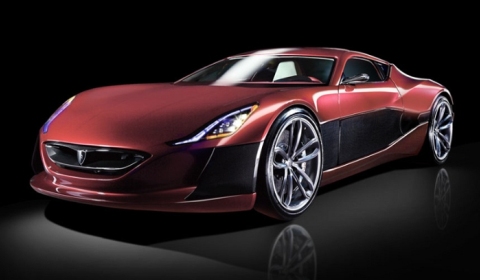 Rimac Automobili has officially unveiled their electric supercar, the Concept One at the Frankfurt Motor Show 2011.
Rimac Automobili is a young company which develops and produces high performance electric vehicles, drive trains and battery system. This all began when the founder of Rimac Automobili, Mate Rimac, converted his old BMW to a race EV. But his ambition went further and the result was officially unveiled today.
The Rimac Concept One is a Croatian electric supercar with an interesting propulsion concept. The power train is divided into four sub-systems, each consisting of one motor, inverter and reduction gearbox. Each of those systems drives one wheel, working completely independent one from the other. This system is called All Wheel Torque Vectoring.
The Rimac Concept One weights 1650kg, but with an total output of 1,088 horsepower and a staggering torque of 3,800Nm the car is able to accelerate from zero to 100km/h in 2.8 seconds and continues before hitting its limit of 305km/h. Perhaps even more impressive is the claimed range of 600km with the 92kWh of energy in the Battery Modules.
The carbon fiber body is designed by Adriano Mudri. The car features an expressive side-graphic in exposed carbon which indicates its production technology and its light weight at the same time. The interior is designed by a team of former Pininfarina employees, led by Mr. Goran Popović. After the Rimac Automobili engineering team finished the development and prototyping of the interior parts, the leather-specialist Vilner stepped-in. Special attention has been paid to the infotainment system and gadgets like head-up-displays and soft-close doors which had to match the propulsion technology in its advancement. The result is a futuristic car, both on the outside and inside.
The production of the Concept One will be limited to 88 units, starting with deliveries in 2013. Rumour has it that the Abu Dhabi royal family has already singed on for a Rimac of its own.