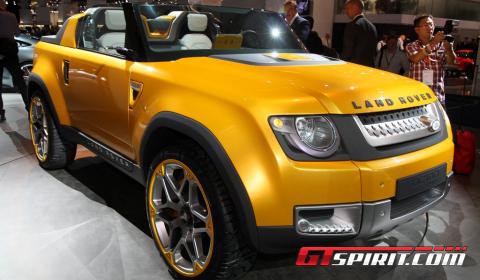 The Land Rover Defender DC100 Sport Concept is one of those unique concepts visible at a motorshow. At this years IAA Frankfurt Motor Show, Land Rover showed this Sport Concept, a variation on the previously seen DC100 Concept. Both are a preview of the next-generation Defender model, which Land Rover aims to bring to market in 2015.
Under the hood you will find a 2.0 liter petrol or 2.0 liter diesel engine, both with hybrid and plug-in capabilities, coupled to an eight-speed gearbox. The vehicle offers a system called Driveline Disconnect, which disengages the rear axle and converts the Defender to a front-wheel drive in order to save fuel.
The Terrain-i scanning system is a warning system which tells the driver about the surface ahead. Any upcoming obstacle when off-road is mentioned and the vehicle suggests an alternate route. The Terrain Response system optimizes the drive mode of the Defender to accommodate the driving environment.
The final feature discussed here is called Wade Aid, a sonar technology which is able to measure water depth when crossing over bodies of water.