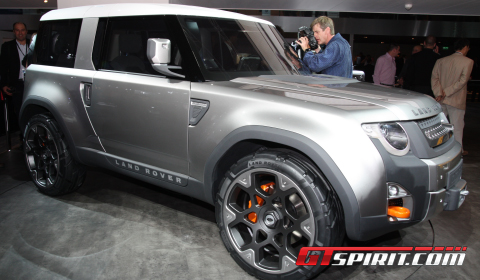 Land Rover has unveiled the DC100 Defender Concept at the 2011 IAA Frankfurt Motor Show today. The concept is designed to explore a modern reinterpretation of the Defender.
The DC100 Defender Concept is designed to show the potential future direction of the Defender. The British manufacturer which specializes in four-wheel-drive vehicles hopes to engage existing and potential customers to finalize the details of the new Defender. This is not an easy task considering the distinctive and pure design of the current Defender.
The iconic Land Rover Defender entered production in 1983, but is based on the original Land Rover Series launched in 1948. Since its basic design has changed little over the past six decades, the Defender does not meet the safety requirements for the USA. Total replacement will be needed by 2015, when new regulations regarding crash safety for pedestrians will render the current design obsolete.
Although the DC100 Defender Concept is just a concept, it is intended that the new Defender will be in production by 2015. As the designers stated, the DC100 Defender Concept is not a production-ready concept but the beginning of a four-year journey to design a relevant Defender for the 21st century.
What do you think, is the Land Rover DC100 Defender Concept a true successor of the current Defender? Feel free to share your thoughts in the comments below.