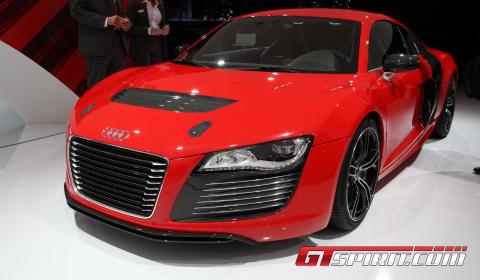 Audi presented a new e-tron at the 2011 IAA which looks almost identical to the R8. The e-tron unveiled at the Frankfurt Motor Show seemed to represent the upcoming production version of the electric-powered sports car.
The Audi e-tron is powered by four electric motors, one for each wheel, with a total output of 313 horsepower and a whopping torque of 4,500Nm(!). The e-tron is able to accelerate from zero to 100km/h in 4.8 seconds and a top speed of 200km/h. The e-tron could travel up to 250km on a single charge.
Compared to the R8, the full electric concept on display in Frankfurt is distinguished by a ventilated hood, a revised grille and additional carbon fiber accents. The production version of the e-tron will be launched late next year.