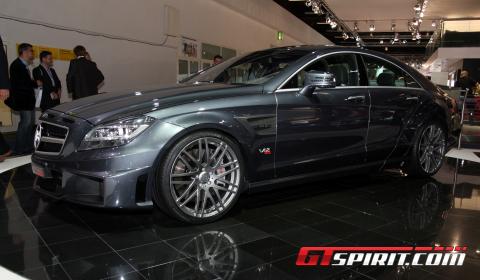 The brand new Brabus Rocket has officially made its world debut at the 2011 IAA Frankfurt Motor Show. The 2012 Brabus Rocket 800 is the most powerful luxury sedan in the world.
The tuner from Bottrop, Germany has installed a V12 into the Mercedes CLS. This engine provides as the name suggests a whopping 800 horsepower and 1,420Nm of torque, which has been limited to 'only' 1,100Nm. The engine is connected to a AMG Speedshift MCT seven-speed sports transmission offering an acceleration from 0 to 100km/h in 3.7 seconds, 23.8 seconds to 300km/h and a top speed of 370km/h.
The displacement increase comprises a special crankshaft with longer stroke, larger, forged pistons and an increase in cylinder bore across the board. Intake and outlet ports of both cylinder heads are optimized for mixture flow, and fitted with sports camshafts. The engine kit also includes two special exhaust manifolds with integrated high-performance turbochargers, and four water-to-air intercoolers.
Gears are shifted by means of shift paddles on the steering wheel or automatically. The limited-slip differential, available with various final drive ratios, optimizes traction of the rear-wheel-drive car.
On the outside, the Brabus Rocket is equipped with a new front fascia with massive carbon-fiber ram-air intakes, air outlets for the front fenders, add-on parts for the rear fenders and rear fascia, a rear diffuser and a rear wing. The ultra-light Brabus Monoblock F wheels fill up the wider wheel arches nicely. The front axle features size 9.5Jx19 wheels and tires in size 255/35 ZR 19. Tires in size 285/30 ZR 19 mounted on identically sized wheels on the rear axle provide excellent traction.
The interior can be threaded accoding to the customers wishes, but also includes a new sport steering wheel with aluminum shift paddles, aluminum pedals, footrest and shifter add. The Brabus speedometer with 400km/h dial is also part of the custom-tailored interior as are stainless-steel scuff plates with backlit Rocket 800 logo.
The Brabus Rocket 800 is priced at € 429,000 excluding taxes.