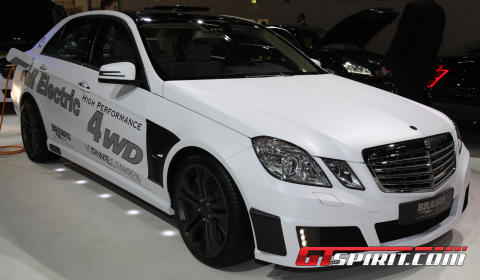 German tuner Brabus has released their High Performance 4WD Full Electric vehicle at the 2011 IAA Frankfurt Motor Show. A special division called Brabus Zero Emission has developed the efficient and environmental friendly luxury sedan of the future. Brabus Zero deals with the development of vehicle concepts for alternative-drive cars.
The electric car is based on the current Mercedes-Benz E-Class. The four electric motors, one for each wheel, provide an output of 320kW and a whopping torque of 3,200Nm. The all-wheel-drive vehicle is able to accelerate from 0 – 100km/h in just 6.9 seconds and reaches a top speed of 220km/h and all without emitting as much as a single gram of CO2.
External charging of the battery pack is handled by two separate systems. For the garage at home there is a quick charger for ecofriendly eco electricity from German energy company RWE. After one-and-a-half hours of being plugged into the 380V three-phase grid with a charging capacity of 50kW the eco sedan again has an operating range of 350km. For charging on the road at any normal 220V AC outlet or on a 380V three-phase outlet the car is equipped with an integrated charger that recharges the batteries fully in five hours.
Brabus is planning a small production run of this powerful, efficient and ecofriendly luxury sedan of the future. The tuner from Bottrop, Germany shows that even high-performance tuning will be green.