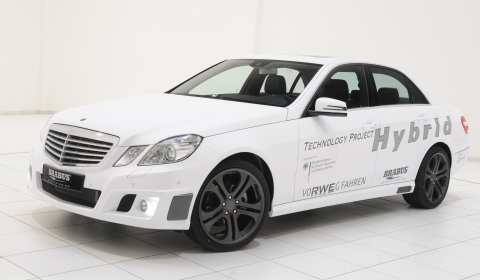 German tuner Brabus has released their High Performance 4WD Full Electric vehicle, which is based on the current Mercedes-Benz E-Class. By using 320kW of power and a peak torque of 3,200Nm from four electric wheel hub motors, they have created an efficient and ecofriendly luxury sedan of the future.
A special business division called Brabus Zero Emission has developed the fully operational Brabus High Performance 4WD Full Electric concept car. The all-wheel-drive vehicle, which celebrates its world debut at the 2011 IAA Frankfurt Motor Show on Tuesday, accelerates from 0 – 100km/h in just 6.9 seconds and reaches a top speed of 220km/h and all without emitting as much as a single gram of CO2. A powerful 56kWh lithium-ion battery pack provides an operating range of up to 350 kilometers. For charging on the road at any normal 220V AC outlet or on a 380V three-phase outlet the car is equipped with an integrated charger that recharges the batteries fully in five hours. There are plans for a small-series production run of this unique automobile.
A low weight of just 31 kilograms, a diameter of only 42 centimeters and a thickness of merely 11.5 centimeters make the electric motors suited for this project, because they are positioned in the Monoblock Q wheels in size 8.5Jx19 front and back. The peak power of 80kW and a peak torque of 800Nm in Sport mode is combined with a recuperation mode. While braking each of the motors contributes up to 70kW to the energy recovery system and therefore to recharging the batteries.
The concept car is equipped with an electro-hydraulic brake system that was custom developed for this type of drive layout. The four vented bake discs are attached to the rear of the wheel hub motors, and gripped by two internal brake calipers each.
The interior of the concept car is supplemented by a special instrument cluster, which provides the driver with information about the battery, the electric motors and other driving parameters such as speed. A new center console housing the controls an electric vehicle requires was manufactured as well.