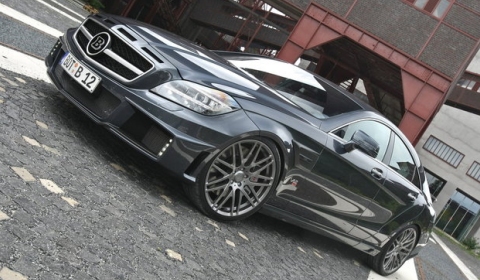 The brand new 2012 Brabus Rocket 800 has shown its face via a German website ahead the official worldwide debut at the 2011 IAA Frankfurt Motor Show, which opens its doors to the press on Tuesday.
An official release of the new V12-powered Mercedes-Benz CLS is not available at this moment, but the information on Motorvision.de states that the engine under the bonnet produces 800hp and a whopping 1,420Nm. The amount of torque has been limited to only 1,100Nm. The engine is connected to a AMG Speedshift MCT seven-speed sports transmission offering an acceleration from 0 to 100km/h in 3.7 seconds, 23.8 seconds to 300km/h and a top speed of 370km/h.
The exterior trim has been enhanced with a new front fascia with massive air intakes, air outlets for the front fenders, add-on parts for the rear fenders and rear fascia, a rear diffuser and a rear wing. The ultra-light Brabus Monoblock F Platinum Edition cross-spoke wheels fill up the wider wheel arches nicely. On the inside, you will spot the usual accessories and refinements on offer by the German tuner.
The Brabus Rocket 800 is the most powerful luxury sedan in the world and is priced at € 429,000 excluding taxes. Stay tuned for more in the upcoming days.
[Via Autoblog.nl]