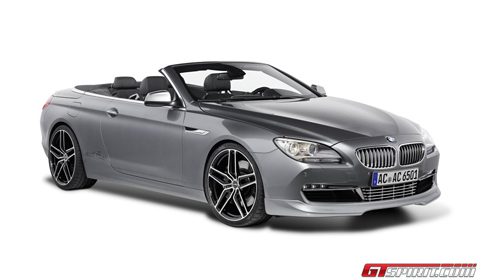 German tuner AC Schnitzer celebrates two world premieres at the 2011 IAA Frankfurt Motor Show. One is the BMW 1 series M Coupé by AC Schnitzer, the other is the BMW 650i Convertible by AC Schnitzer.
The BMW 6-series was introduced in the spring of this year. The open 6-series has been enhanced by Aachen company AC Schnitzer with its tuning range for the 650i Cabriolet. For our first drive and photos of the 2012 AC Schnitzer ACS6 5.0i click here.
Additionally, the eight-cylinder engine of the ACS6 Convertible received a performance upgrade. The standard 407 horsepower was increased to a more impressive 540hp. The torque increased from 600Nm to 750Nm. The result is an acceleration from zero to 100km/h in 4.4 seconds compared to the 5.0 seconds of the stock 650i. Additionally, the top speed increased from a (limited) 250km/h to 310km/h.
For braking power, AC Schnitzer has installed a high performance brake system. The Aachen based tuner has developed an eight-pot high performance brake system for the front, in response to the increased driving power. The eight-piston fixed calipers on right and left, and the eight-piece set of brake pads with caliper holders together ensure that the "open-topped rocket" scrubs off the speed quickly and safely. The driving dynamics are further assisted over bumps by the AC Schnitzer suspension spring kit.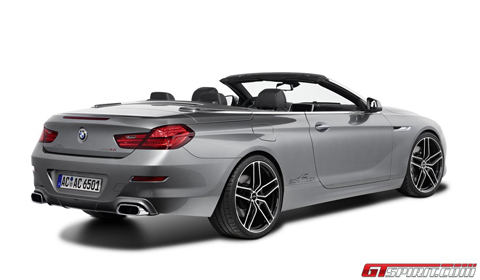 AC Schnitzer also offers a feature which suits the more powerful character of the package better. The AC Schnitzer twin sports rear silencer with chromed "Sport Trim" tailpipe trims right and left means that the 650i can also be seen and heard from behind.
The bodywork has been enhanced by adding a new front spoiler, chromed front grille and chrome decor strips. There are also rear skirts inserts and loading lip protection film to give the bodywork of the 6-series Cabrio a finishing touch.
The interior can been personalized as well. The interior trim is painted in matt space grey. Furthermore a new steering wheel with airbag has been installed, together with an aluminum cover for the iDrive controller, aluminum foot rests and pedals, and new velours floor mats.
To round off the appearance of the car, AC Schnitzer offers different kind of wheels. The wheel arches can be filled with AC Schnitzer wheels and corresponding tyres in Type IV BiColor or silver, Type V forged alloy rims in BiColor or Type VIII in BiColor or as forged racing rims in BiColor.
A new addition to the range is the Type VIII forged alloy wheel in BiColor in 21 inch, which weighs 11.5kg (9.0J x 21 inch) or 11.9kg (10.0J x 21 inch). So in comparison with standard wheels (star spoke 311) in 20 inch, these offer a weight saving of 30 percent despite the fact that the AC Schnitzer Type VIII forged alloy wheels are a full inch larger.