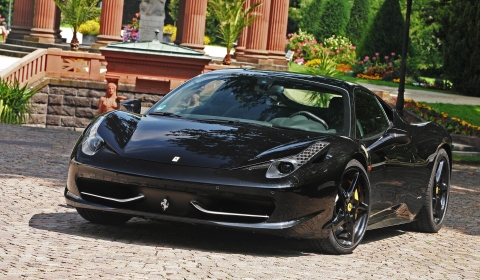 As the follower of the model F430 Ferrari presented the model F458 in September of 2009. The Cam Shaft Company from Steinbach, Hessen improved the exterior trim with a several vinyl wraps.
The roof was treated with a chrome foil as well as the upper parts of the side wings while the rear lights, fog lights and a third stop light are dimmed. Stock disks are covered with black lacquer, allowing yellow cramps of the disk brake mechanism to look even brighter. In some way this prancing horse looks quite similar to the blue and chrome Ferrari 458 Italia we saw earlier today.
Solingen company Wimmer Rennsporttechnik added some extra horsepower to the initial 570hp and only endowed the car with 588hp and 562Nm. Optimization of the software costs an astonishing 2,999 euros for just 18hp.