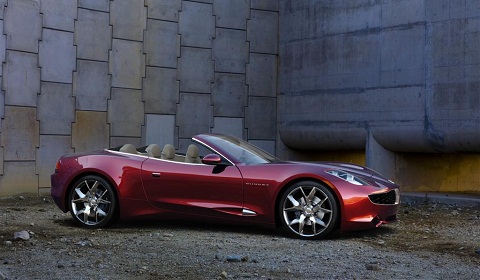 BMW and Fisker have signed an agreement for up to 100,000 turbocharged four-cylinder petrol engines to be made available for Fisker's upcoming 'Project Ninja' hybrid vehicle. There will be three variants of the platform, a saloon, convertible and shooting-brake, and it's being built to rival the BMW 3-Series and Audi A4.
The new model will mark an expansion for the American auto maker who recently delivered their first production Karma. It is scheduled to enter production in late 2012 at a price of around $ 50,000. This time, right-hand drive markets have not been left out.
The new model will be built in the re-commissioned former GM plant in Wilmington, Delaware. By 2013 'Project Ninja' will be on sale globally, it is hoped that 40% of sales will be in North America, a further 40% in Europe and 20% in Asia.
Fisker 's CEO and Executive Design Director, Henrik Fisker, said:
The BMW engine was an obvious choice for us, as BMW is known for producing the best and most fuel efficient gasoline engines in the world. We are very pleased to have signed this agreement with BMW.