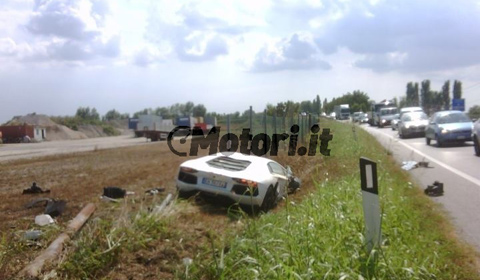 The first Lamborghini Aventador crash happened on August 30th 2011 in Padua, Italy. The unlucky Lamborghini Aventador crashed into a truck during an overtaking manoeuvre on a rural road in the province of Padua. After the Lamborghini Aventador hit the truck it spun and hit a telephone pole, traffic sign and a fence before landing in a ditch.
The Aventador suffered some serious damage to the front wheels in the crash but the carbon fiber monocoque stayed completely intact. The accident happened on a straight road when the driver was attempting to overtake a line of cars and the before-mentioned truck, just as he was coming up to the truck the truck moved to turn left. Unable to prevent a collision the Lamborghini Aventador hit the truck with the right front wheel.
The Aventador driver wasn't injured in the accident, nor was the truck driver. With a dent in his ego the driver will have to send the car back to the Lamborghini factory for repairs. Lets hope this will be the first and last Lamborghini Aventador crash we will see on GTspirit for years to come.
[Photos via Motori.it]