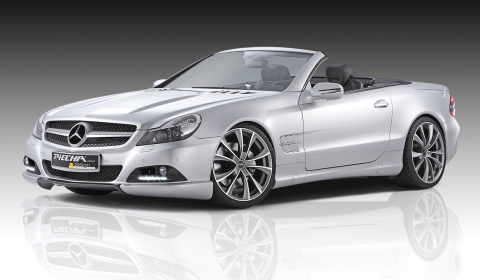 German tuner Piecha Design is offering a new package for all SL R230 models starting at the March 2008 facelift.
They offer special build-in housings with LED daytime headlights and the fog lamp. The kit can be delivered ready for installation for the serial bumper and the AMG bumper of the SL63 and SL65. For the serial bumper, a three-part front spoiler lip has been developed to be combined with the daytime headlights. Piecha also offers a harmonious rear spoiler lip.
The new Piecha MP1 monoblock wheel rims in the front-polished titanium silky-gloss version are available at 9.5×20 with 255/30 R20 for the front, and at 11×20 with 305/25 R20 for the rear wheel cases of the SL. The designer wheel set matches all the CLS models of the 219 and 218 series with the same tyres. The car body also does not require any rework.
Proper wheel covering, however, requires that the chassis is lowered. The SL-chassis can be lowered either by classic Piecha lowering springs (-30mm) for the coil-spring version, or a Piecha-lowering module (-30mm) for the ABC-chassis.
Stainless steel Quadro sports exhaust system has four end tubes in right/left loops. A power converter ensures improved acceleration, and the comfort vario roof module permits opening and closing of the roof at a speed of up to 60km/h.