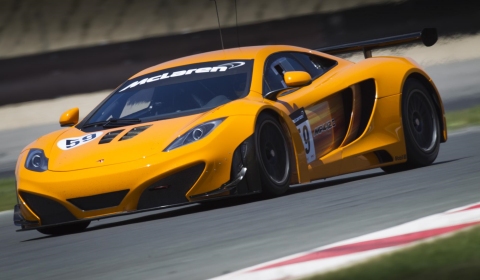 As McLaren GT prepares to enter two cars in the Blancpain Endurance Series race at Magny Cours on 27 August 2011, the new GT race car manufacturer is announcing that the first twenty MP4-12C GT3 race cars are sold.
A limited production run of race cars will be distributed among private owners and race teams for racing in Europe next year. Clients for the new 12C GT3 are ASM Team, Andrew Tate, Apex Motorsport, Boutsen Energy Racing/Ginion Group, Doerr Motorsport, Gulf Racing, J.A.S. Motorsport, Klaas Hummel, Leon Price, and Von Ryan Racing.
The 12C GT3 will be supplied with a steering wheel of the same design employed by Lewis Hamilton in his MP4-24 Formula 1 car. McLaren GT set the price of the new MP4-12C GT3 at £ 310,000.