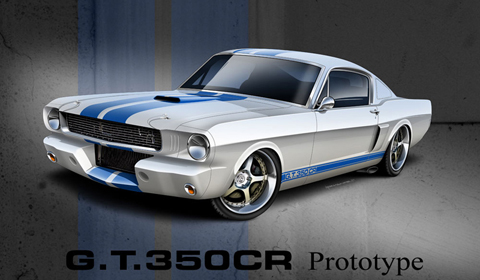 American company Classic Recreations has released the first details about their upcoming project which is based on one of the most iconic and collectible muscle cars of the 60's.
The Shelby G.T.350CR is based on an original 1965 or 1966 Mustang Fastback. Classic Recreations performs a complete restoration including media blasting, sheet metal replacement and show winning paint and body.
The Oklahoma based tuner installs authentic Shelby Performance parts, rack and pinion steering, race inspired coil over suspension, limited slip differential, high-performance brakes and a sport exhaust system.
The hand built muscle car is powered by a 7.0 liter V8 which offers 545 horsepower. For those interested in a more powerful version, Classic Recreations offers a supercharged version with 645hp as well as a version with intercooler which provides 745hp. A twin-turbo variant is available as well, this one offers a mighty 1,000hp. The power is transferred to the rear wheels via a Tremac manual transmission.
Every authentic Shelby G.T.350CR will be enlisted in the Shelby American Worldwide Registry. The Classic Recreations Shelby G.T.350CR could be customized upon request.
The pricing of this muscle car starts at $119,000. For more information visit Classic Recreations.