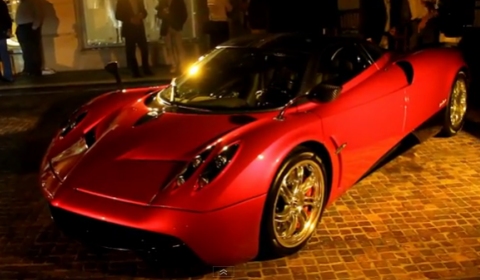 The 2012 Pagani Huayra has finally made it to the US. The unique Italian supercar was revealed last night at the Peninsula Hotel Beverly Hills in Southern California following a release at the Eastern border of the United States a few days earlier. Accompanied by Mr. Horacio Pagani himself and a Pagani Zonda R, the crowd gathered to check out the second official unveiling of the Huayra in the US.
One of the persons who bumped into the event was L4P member Drake aka DLM. This is his story:
So my friends and I went out car spotting in Beverly Hills. We ate a fabulous meal and decided to cap the night off with a stop by a great hotel for cars, or the Peninsula Hotel Beverly Hills. We saw a couple Ferraris and Lamborghinis parked in the valet lot and a large crowd of people standing nearby, so we decided to go in. I walked in first, my friends waited outside the entrance.

I saw a glimpse of the Zonda R and instantly knew that it was part two of the US unveiling of the Huayra. I yelled to my friends, "F**k, a Zonda R!" and they nearly crapped themselves when they saw it-they thought I was just messing with them… We walked in and saw the Huayra as well and our knees went weak. Later on a Bugatti Veyron came by as you can see in the video, which made for an insane combo.

I'd like to personally thank and congratulate Mr. Horacio Pagani and the Pagani staff for not only building such amazing cars, but for also being some of the friendliest car people I've ever met. They engaged in full-on conversation even though I'm just a kid and nowhere near a potential buyer, and they even let us sit in the Huayra.

The best part was that I had the opportunity to meet Mr. Pagani himself. Now, he speaks Italian and very little English, so the language barrier restricted our conversation, but I was able to tell his translator that my favorite car is the Zonda Cinque (lucky London spotters…). So as I'm shooting the Huayra 15 minutes later, Horacio Pagani points at me and motions me to follow him, so I do. There were some posters lined up in the hotel and one is of a Zonda Cinque. His translator told me to get on one side of the poster (while Mr. Pagani stood on the other side) and for me to give him my camera to take a picture with. So now, I will forever have not only the memory, but a photo of me, (a poster of) my favorite car, and its creator all in one shot.
[Via L4P]