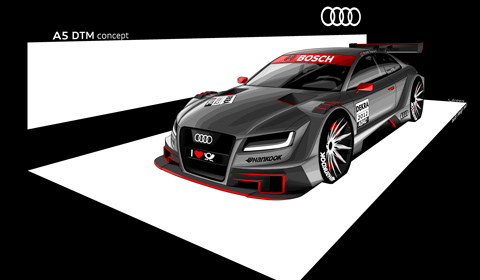 Model change in the DTM: from 2012 on, Audi will bank on the A5 in the most popular international touring car racing series. The coupe, which is internally named "R17", will replace the four-door A4 DTM with which Audi has won the prestigious DTM title four times since 2004.
The technically and visually upgraded A5 that is will be arriving at dealerships shortly provides the basis for the new DTM car. Head of Audi Motorsport Dr. Wolfgang Ullrich said:
In 2012 new Technical Regulations will come into effect in the DTM. We've got exactly the right model for that in the A5. We're convinced that we'll be able to continue Audi's success story with it in the DTM.
Like all new DTM cars, the new Audi A5 DTM has a high-strength carbon fiber monocoque that is combined with a steel tube cage. The V8 engine with a power output of about 460hp will be adopted from the successful A4 DTM nearly unchanged. The proven six-speed transmission will continue to be used as well. Characteristic features of the 2012-generation of DTM vehicles are a larger rear wing and a reduction of the permitted aerodynamics components. The concept studies of the Audi A5 DTM by the Audi Design Team merely suggest the looks of the new Audi race touring car.
The first prototype of the R17 is currently being built up at Audi Sport in Ingolstadt. The roll-out is just around the corner. The new Audi A5 DTM will be unveiled to the public at the 2011 International Motor Show (IAA) in Frankfurt.