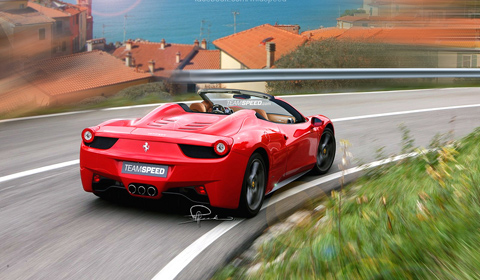 Teamspeed released some new information on the highly anticipated 2012 Ferrari 458 Italia Spider that was shown to a select group last week in Maranello. Two Ferrari 458 Spiders were shown in Rosso/Tan and Nero/Tan. Scheduled for a premiere this fall at the Frankfurt Motor Show 2011, the new Ferrari 458 Spider features a unique retractable hardtop.
First EU deliveries will be at the end of the first quarter, while UK deliveries will be at the beginning the third quarter. Exact dates for the US market are still uncertain but they are likely to follow the UK. Pricing has yet to be discussed, but expect around $ 40,000 USD over the coupes base price.
The drive train will be carried over from the coupe version but expect some technological improvements to keep the 458 Spider ahead of competition. This is the first time since the last 355 Spider produced until 1999 that we will not see a clear engine cover on the rear deck-lid of the two-seater Ferrari spider variant. Wildspeed created some renderings based on eye witness accounts from people who have attended the Ferrari 458 Spider preview in Maranello.