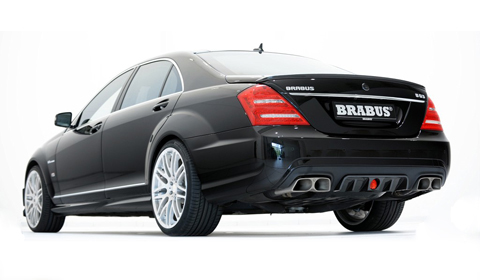 Brabus has presented their latest upgrades for the Mercedes AMG E- and S-Class models. These upgrades are designed to give the AMG models an even more sportier appearance and to reduce lift on front and rear axle.
For the Mercedes E-Class with AMG body styling the Brabus engineers have developed an aerodynamic enhancement kit. This kit consists of a front spoiler lip that attaches to the lower part of the AMG front apron on the sedans and wagons of the latest E-Class. The front spoiler reduces lift on the front axle and improves the directional stability.
For the E-Class sedan the Bottrop based tuner has developed a diffuser and rear spoiler as well. The diffuser features a centrally located reflector and has cut-outs on either side of the it to provide room for the four pipes of the exhaust system. Just as the front spoiler, the diffuser and rear spoiler are available in the contrasting color, body color or a titanium-colored paint finish.
Also for the Mercedes S-Class with MG body styling is an kit to improve the aerodynamics. This kit improves the aerodynamic properties of the luxury sedan. As a result, the car delivers an even smoother ride, particularly at high speeds. Just like the kit for the E-Class, this one can be painted in body color, contrasting color or a glossy titanium paint finish.
A Brabus aero update is also available for the E 63 AMG and S 63 AMG. To further optimize directional stability at high speeds, the Brabus has developed a carbon fiber front spoiler lip. Custom-tailored air ducts lend the side outlets of the AMG apron even more sporty profile. The rear spoiler and diffuser for the sedan are made from carbon fiber as well.
The diffuser provides a backdrop for the ceramics-coated dual design tailpipes of the stainless-steel exhaust system of the E 63 AMG or the cast-aluminum exhaust system for the S 63 AMG. Thanks to an integrated flap system the driver can choose between a discrete 'coming home' mode and a sport setting. To further enhance the appearance Brabus offers monoblock wheels with diameters up to 20 inch, as well as sport fenders.
Brabus also offers engine tuning for the various AMG engines. Highlights in this category are the 6.3 liter V8 fast-revving engine and the new 5.5 liter V8 Biturbo engine.
For the interior the German tuner offers a wide variety of options. Fine leather, Alcantara, carbon fiber or exotic woods trims in any desired color and in a number of different designs, the whole inside of the car can be arranged according to the customers personal preferences .