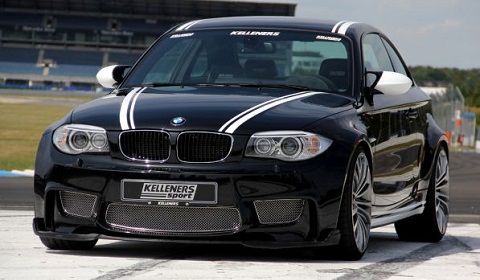 The first complete tuning kit to be announced for the BMW 1M comes from Kelleners Sport, a German tuning company. They've made performance enhancements, improved the handling characteristics, given a new interior and made a number of dynamic improvements. The kit is called the Kelleners Sport KS1-S.
Twenty percent power increases take the standard 340hp to a new maximum of 410hp whilst maximum torque jumps from 450 to 550Nm. New Kelleners Sport rear silencers with four 83mm tail pipes have also been fitted to release some of the twin-turbocharged sound.
There's a new front spoiler lip and three-part grill insert made of electro polished stainless steel. To give the car a new look, Kelleners Sport have also given this car decorative stripes on the bonnet, roof and side sills.
An adjustable coil-over suspension system has been developed and fitted. Kelleners Sport gives customers a wide range of options for setting the car up to suit his or her individual needs. There's also variable height adjustment, and adjustments that modify both rebound and compression independenty. This is a personal service which sets the car up to the customer's specification.
Light-weight, one-piece alloy wheels reduce the unsprung weight and ensure dynamic handling. At the front, the 9×20 inch wheels are fitted with 245/30 high-performance tyres while the rear axle comes with 10×20 inch wheels and 265/30 tyres. The 15 spoke 'Hamburg' wheels are available in polished graphite-silver, polished platinum-silver and matt black finishes. The 'Berlin' wheel with double spokes is available in platinum silver polished, matt black polished and matt black.
Top-quality perforated leather and Alcantara in black and white cover the front and rear seats, the dashboard and the door panels. White contrast stitching has been used and the Kelleners Sport logo has been embroidered onto the head rests.