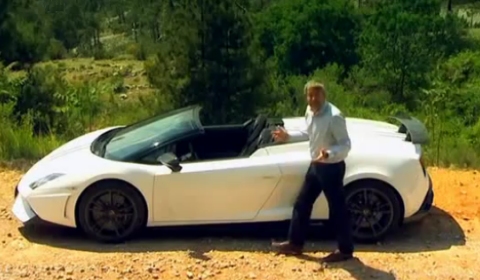 Tiff Needell was in Nice, France, to test the Lamborghini Gallardo LP570-4 Performante. The review of the most potent Gallardo Spyder available was broadcasted on Channel 5 last night in the ninth episode of the 19th season of Fifth Gear.
The Performante is lighter than the Gallardo LP 560-4 Spyder thanks to the usage of CFRP technology. The engineers in Sant'Agata Bolognese managed to reduce the weight of the new Spyder Performante by a further 65 kilograms. The open super sports car tips the scales with a dry weight of no more than 1,485 kilograms. Just like its "brother", the Gallardo LP 570-4 Superleggera, the lightweight of the Spyder Performante is due in large part to exterior and interior components made from carbon fiber.
The V10 power unit with a displacement of 5.2 liters generates 570hp. It catapults the open-top LP570-4 from 0 to 100km/h in a mere 3.9 seconds and keeps on going to a top speed of 324km/h.