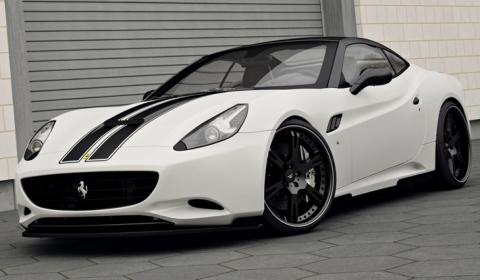 Wheelsandmore has developed an appropriate performance package for the Ferrari California, added some additional technical changes to the setup and improved the looks of the prancing horse.
Ferrari's smallest V8-engine with just 4.3 liters displacement is increased moderately up to 500hp and 525lb-ft. Responsible for this extra power of 40hp and 40lb-ft is, beneath the remotable, valve controlled exhaust system, the remapped ECU software. Even more power and an improved racesound is promised via the optional combination of 200 cell sports catalysts and premuffler replacement tubes.
Spezialized in manufacturing three-piece forged wheels the German tuner equipped the 2+2 hard top convertible with their 100 percent handmade wheelmodel 6 Sporz². The lightweight wheels are sizing 9.0 x 21 inch at the front with tyres 245/30/21 and at the rear 12.5 x 21 inch with 345/25/21 S1Evo barrels from Hankook.
By lowering the vehicle's center of gravity around 40mm with special lowering springs the tuner says they achieved a much better handling.
Easily visible on the car pictured here is the available aero- and design-package, contending lacquered selected serial parts and a double-line racestripe, side skirts, a carbon boot lid spoiler, black plasma coated endtips and discreet carbon elements at the front- and rear bumper.