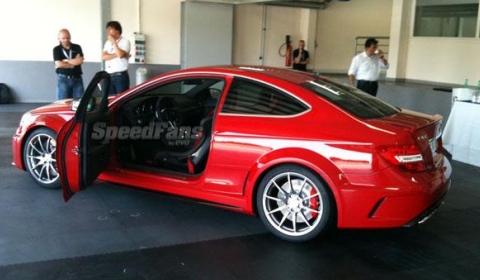 You may have been following the story on the Mercedes-Benz C63 AMG Coupe Black Series recently after images got leaked two days ago. Our colleagues over at Carscoop have revealed that the Black Series was in fact unveiled to select members of the media at a press launch. The photos that have been shown, all come from this event.
Carscoop has revealed that the Black Series was due to be unveiled during the German Grand Prix at Nurburgring on the 24th of July. They've also revealed that the car will be powered by AMG's 6.2 liter V8 with 510hp and 639Nm of torque. On top of that, changes to the suspension will make sure the handling is a class above the standard car.
Obviously, the looks have been modified by including a new body kit, alloy wheels, quad exhausts and red brake calipers. Inside receives the usual Black Series refinements too. Think plenty of alcantara and carbon fiber accents.
Stay tuned for the full release in about two weeks time.