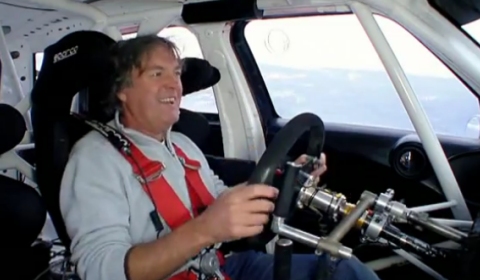 Guys over at Top Gear have released a second teaser showcasing highlights of the upcoming Season 17. Last week we showed you the first teaser, but this second clip shows some new higlights.
James drifts the brand new Aston Martin Virage, the McLaren MP4-12C is pitted against the Ferrari 458 Italia (similar to Fifth Gear in two days), the guys are driving a line-up of convertibles and Richard smiles in a Fiat Abarth 500C in the Monaco tunnel during the F1 weekend. More than enough highlights in 30 seconds!
Episode 1 will host the 50th birthday of the E-Type Jaguar, celebrated by Jeremy in typically brash style. James gets to play with Olympic gold medallist Amy Williams… and a Mini rally car, whilst Richard travels to South Africa to play with something even bigger, louder and more destructive than Jeremy…
Check out the footage below and stay tuned Top Gear is back on Sunday 26 June. 8pm. BBC Two and BBC HD.