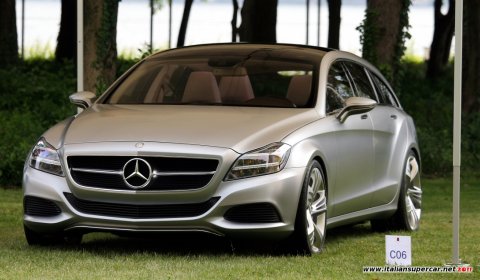 Released in April of 2010 at the Auto China 2010, the Mercedes-Benz Concept Shooting Brake shows a further insight by Mercedes designers into the possible future development of the Coupé concept.
The design of the front is completely new, but makes use of elements which are mindful of the SLS AMG super sports car: the radiator grille, with the large star and eye-catching, bionic slats, is not integrated into the bonnet but has been designed separately. The grille is flanked on each side by full LED headlamps, which for the first time feature LED technology for all of the usual dynamic light functions.
The interior is dominated by natural wood and leather materials. One eye-catching feature is the large full-length centre console. The Concept Shooting Break is driven by 3.5 liter V6 engine producing 306hp with a maximum torque of 370Nm.
The concept showed up at the Villa d'Este 2011 Concours this weekend.