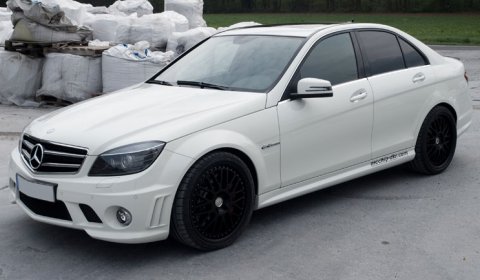 Following the release of the Porsche 997 GT2 a few days ago, mcchip-dkr has released their program for the Mercedes-Benz C63 AMG today.
The Merce C63 AMG has stock 457hp and 600Nm of torque. The German tuner installed a performance package called "Stage 3". The performance kit includes software optimization and a complete exhaust from Cargraphic including header, middle silencer and rear silencer with a remote controls. It improves the ouput up to 583hp with 692Nm of torque. The Vmax is electronically limited to 310km/h. The total reconstruction takes about three days and will cost about 10,000 Euro.
They did not only improve the performance but also the appearance, a set of black matt "RS" 19 inch rims from Cargraphic with 8,5×19 ET47 tires at the front axle and 9, x19 ET65 at the rear axle have been installed. The cost of this wheel set is 7,473.67 Euro.