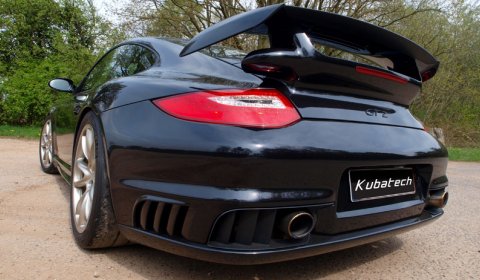 Tuning company mcchip dkr from Mechernich took a Porsche 997 GT2 and tuned it too perfection. The team led by CEO Danny Kubasik had the car already equipped with 530hp and 680Nm of torque coming from a 3.6 liter turbo, but they outfitted it with a Stage 3/MC650 package.
The kit is outfitted with modified turbochargers, high-performance charge air coolers including silicone Tube Set, Cargraphic 200-cell sport catalysts and manifolds. All of this along with the Stage 3 software Kubatech optimization created a performance of 657hp with a maximum torque of 835Nm. The tuner has slowed or metered torque so that the Porsche 997 GT2 is still mobile on the race track for everyone. Both hardware and software technology would provide well over 900Nm easily, but it would have a negative effect on driveability.
The complete reconstruction, including the absolutely necessary coordination takes six to eight working days and costs almost € 23,000.