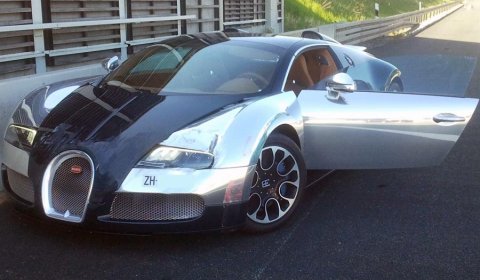 Two young Polish guys were arrested on Monday morning in Germany after stealing two luxury cars in Switzerland. The Bayern police chased the 24 and 27-year-old men who were driving a stolen Bugatti Grand Sport Sang Blue and a BMW 750 Li in the direction of Poland. A third man is still on the run, but abandoned his stolen Ferrari in Fürth. The precious cars belong to a Swiss businessman and have a total value of about € 1.5 million.
The silver-blue Bugatti and the black BMW sedan – both with Swiss license plates – were spotted on the A9 near Pegnitz heading in the direction of Berlin. It quickly became apparent that the Bugatti, BMW and a Ferrari 599 GTB had been stolen in the early hours of Sunday in Oberrieden, Switzerland during a burglary.
Coordinated by the operations center of Oberfranken and assisted by a police helicopter, the chase of the 1001 and 407-horsepower luxury cars was started. Close to Wolfsbach the Bugatti driver stopped the exclusive sports car on the highway, jumped out of the car and fled on foot crossing the center guardrail and all three lanes of the opposite direction of the A9. But the police officers did not give up and pursued the man into the open terrain. They finally managed to arrest the 27-year-old man from Gdansk.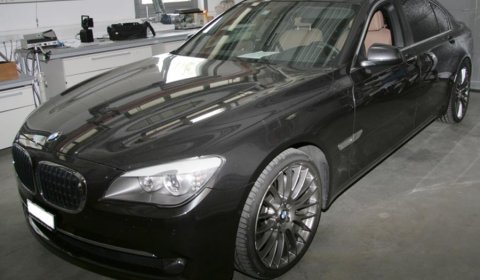 In the meantime forces were searching for the black BMW 7 Series on the B2 near Creußen. The 24-year-old driver from Elblag very quickly realized the futility of his situation, given the police presence that had surrounded him. He was arrested without resistance and the large BMW sedan has been assured.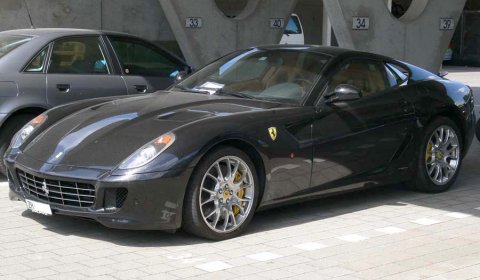 The black Ferrari 599 GTB was missing until somebody noticed the abandoned black sports car with Swiss license plates on early Tuesday morning in the vicinity of the Fürth railway station. Police officers brought the stolen 620-horsepower sports car in safety. They are still searching for the driver.
The 24 and 27-year-old men have been transferred to their detention. The seized luxury vehicles were handed over to the Swiss authorities.
[Via Polizei.bayern.de]