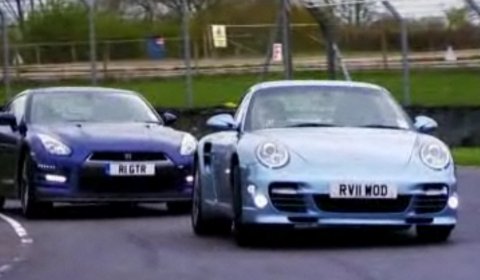 Battle of The Titans! Fifth Gear has compared the 2012 Nissan GT-R with the 2011 Porsche 911 Turbo S. Tiff Needell and Jason Plato did three specific tests with the two sports cars. The overall winner in the end was the…
The new Turbo S has 30hp more than the standard 997 Turbo with a total output of 530hp. The car weighs 1,585kg and sprints from 0-100km/h in 3.3 seconds and 0-200km/h in 10.8 seconds. The speedometer can reach a top speed of 315km/h.
The improved and upgraded 2012 Godzilla includes refinements in both performance and exterior/interior looks. The 3.8 liter V6 bi-turbo engine produces an increased output to 530hp at 6,400rpm and 612Nm of torque between 3,200 and 6,000rpm. The 2012 Nissan GT-R accelerates from 0 to 100km/h in about 3.0 seconds.