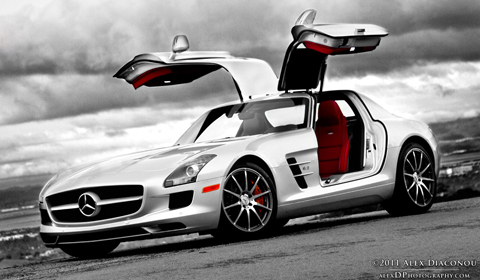 It is a known fact that the Mercedes-Benz SLS AMG is getting a roofless brother in a few months time. Next to the Roadster the Germans will upgrade their gullwing coupe with some new features. These are AMG Adaptive Suspension, Blind Spot Assist and an AMG Performance Media system.
For those of you not familiar with these features a short recap. The AMG Adaptive Suspension offers a little more comfort using three suspension settings. One of Mercedes' safety technologies is the Blind Spot Assist helping you overtaking and taking corners in dence populated areas. The new AMG Performance Media system has improved telemetry and g-force measurement.
The 'improved' SLS AMG Coupe will be introduced at the IAA 2011 in Frankfurt together with the Mercedes-Benz SLS AMG Roadster.