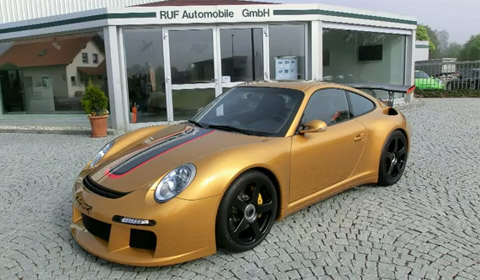 At this year Geneva Motor Show RUF showed us the new RUF RT12 R based on the Porsche 997. Our friend Martin had an exclusive test drive with the new RUF RT12 R and created the video below.
According to Martin the RUF RT12 R is faster than anything he has ever driven, by far! These are the words of a guy that owned a Lamborghini Murcielago and Ferrari F430, and has driven his fair share of supercars.
The RT12 R is the next generation RT12 S. The RT12 R is specially designed for racing and is extremely lightweight. It weighs only 1495kg and has a 3.8 liter twin-turbo engine. The total output is 730hp at 7,000rpm and a maximum torque of 940Nm at 3,500rpm. The top speed is over 370km/h and the price of this beauty is 279,000 Euro excluding taxes.
RUF RT12 R: