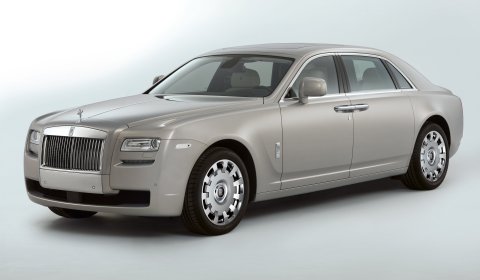 Rolls-Royce Motor Cars has unveiled its new Ghost Extended Wheelbase model for the first time at the 14th Auto Shanghai Motor Show today. The ultra-luxury saloon, the sixth new model from Rolls-Royce Motor Cars, gives customers increased space and comfort.
The Extended Wheelbase variant has an additional 170mm to the car's wheelbase. The legroom is enhanced with knee-room which more than doubled compared to the standard Ghost. The increased cabin space in the rear passenger compartment and a panoramic sunroof are the highlights of the new setup.
Powered by the 6.6 liter twin-turbo charged V12 engine which produces 563hp and 780Nm of torque at just 1,500rpm, the Ghost Extended Wheelbase accelerates from 0-100km/h in just five seconds.
The Ghost Extended Wheelbase will be built to order and is available in only limited numbers for 2011 until full production begins in 2012.