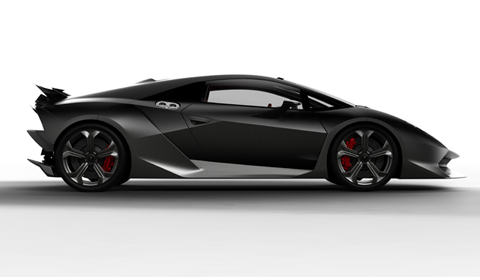 Debuted in 2003 and with over 10,000 cars built, the Lamborghini Gallardo is the company's most-produced model to date. But after launching the Aventador, Lamborghini has reportedly already begun extensive work on the Gallardo successor named the Cabrera. Like most Lamborghini model names, Cabrera is derived from the name of a legendary Spanish fighting bull.
The Lamborghini Cabrera will be the new 'entry level' Lamborghini. According to rumours, this all-wheel drive car will be powered by a supercharged V10 which should provide 600hp. Following the principles of the Aventador and Sesto Elemento (pictured above), the Cabrera would also focus on weight saving. Thanks to the extensive use of composite materials the car will be lighter than the Gallardo.
Considering the loss of weight and the increase of power the Cabrera would be an interesting contender for the Ferrari 458 Italia, McLaren MP4-12C and the upcoming new Porsche 911.
The Cabrera is set to enter market in 2013. It will likely be followed in 2014 by a Cabrera Spyder, complete with an automated folding soft-top just like the Gallardo Spyder.
[Via Autoblog.com]