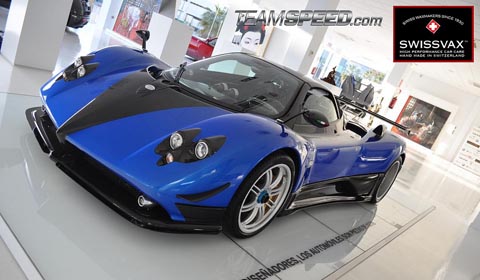 The one-off Pagani Zonda HH was commissioned by Danish programmer and businessman David Heinemeier Hansson. He ordered the car with the intention of exporting it to the US where most of his business are located and where he spends most of his time. He was refused registration of the Zonda HH in the US upon application so now the car resides in Spain registered on Swiss plates to Canton Geneva.
This remarkable car is powered by a 7.3 liter V12 engine which produces 678hp and 780Nm of torque. It has a top speed of 350km/h (217mph) and will go from zero to 100km/h (62mph) in 3.4 seconds. But this car needs to be cleaned and protected as well, and therefore Swissvax and Malaga-based partner Comfort Car Care were contacted for provide a proper treatment.
The wheels of the Pagani Zonda HH were decontaminated and cleaned before applying a wax-pre-treatment. Next the wheels were sealed with a special resin which enhances the surface of the wheels with a visible smooth shine and helps to repel dirt. Finally the tyres received a treatment. An emulsion consisting of gloss agents and preservatives were used to protect the tyres.
The bodywork parts were cleaned and threatened as well. The carbon fiber parts received a special treatment, just like the blue paintwork of the car. All bodyparts were sealed and protected by applying a wax. Not only does this achieve an excellent water-repellent finish, but it also produces a stunning and intense gloss on the paintwork. Finally the bodywork was polished by hand.
Also, the other parts of the car received an intensive treatment. The plastic screen of the soft-top was corrected and protected. The exhaust was re-polished and sealed. The interior was nourished and protected by adding a leather care product in order to restore and preserve the natural moisture balance of the leather. All carbon sections were protected in the same way as the exterior bits. Even the rubber seals and upper side of wiper blade were nourished and protected.
It is clear that cleaning and maintaining a supercar like the Pagani Zonda HH is not easy and deserves the attention of professionals.
If you are interested of would like to know more, please contact Swissvax.
[Via Teamspeed]