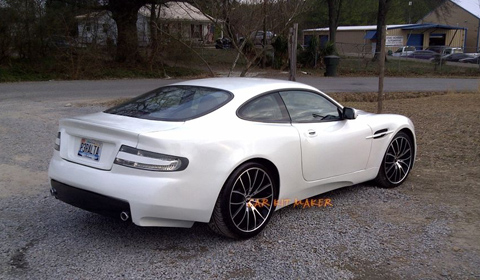 Always wanted to own an Aston Martin DBS, or is the Jaguar XK8 not good enough for you? Don't hesitate, here is your opportunity to own a 1999 Jaguar XK8 dressed up like an Aston Martin DBS.
Alabama based company Car Kit Maker is offering kits to transform the XK8 into a DBS. This replica with a mileage of 95,000 miles was offered at eBay for a price of $ 50,000, but failed to receive any bids. This shouldn't be very surprising considering the fact that a Jaguar XK8 with a similar mileage should have a retail value of $ 12,000. There are even Aston Martins for sale for prices below $ 50,000. So, this replica is currently listed for $35,700.
Car Kit Maker is also offering replicas of some Porsche, Ferrari, Lamborghini models and they are working on a Bugatti Veyron replica for under $ 45,000. Some of their projects can be viewed here. Even more interesting is their FAQ.
What do you think, is this overkill or not?
[Via Carscoop]