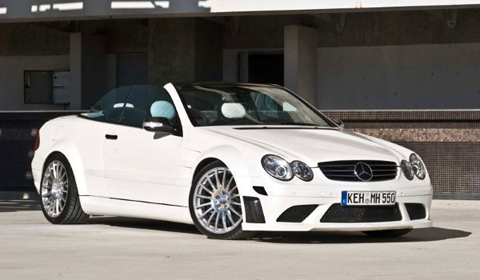 The Mercedes CLK Black Series, produced from 2007 to 2009, was one of the most powerful cars made by AMG. The Mercedes-Benz subsidiary and tuner from Affalterbach, Germany didn't produce a Black Series edition of the CLK Cabrio officially, but now there is the possibility to buy one.
This Mercedes CLK55 AMG Black Series Cabrio is the result of some great craftsmanship. The car is based on a 2005 Mercedes CLK55 AMG, but received a bodykit to look more like the CLK63 AMG. The power output has increased from standard 367hp to an impressive 450hp. 19 inch Black Series rims and exhaust pipes were installed, giving the car a more stylish look and sound.
The interior received a facelift as well, resulting in a contrasting black and white trim. The steering wheel is similar to the one in the SL Black Series. For entertainment a Hifonics sounds system is installed together with two TFT monitors to entertain the passengers in the rear seats. There are even two monitors inside the trunk!
This car has driven 30,000km and the price tag is € 69,000 including 19% VAT (or € 57,983 excluding VAT).
This unique CLK55 'Black Series' is currently listed at Mobile.de and for sale at MH-Car Design in Mainburg, Germany. For more information, click here.
[Via Autoblog.nl]