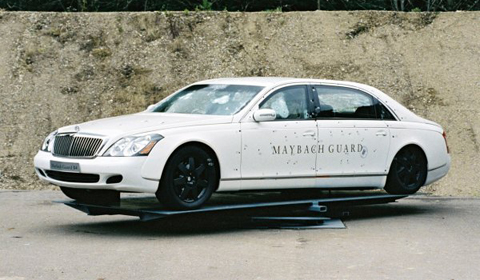 Maybach responds to the needs of businessmen and Heads of State around the world, who would like to see comfort and luxury combined with a high level of safety. Therefore the German manufacturer of high-end luxury cars offers the Maybach Guard. This armored Maybach is equipped with a body shell made out of reinforced steel and Kevlar. The Guard model is also said to be almost indistinguishable to the naked eye from an regular, unprotected Maybach.
Based on the Maybach 62, the Guard offers a high level of the same performance figures and possibilities of customization as a regular Maybach. Despite the increase of weight by 406kg, the Maybach has a (electronically limited) top speed of 250km/h and get from 0 to 100 in just 5.7 seconds thanks to its V12 twin-turbo. Maybach claims that this is the only armoured car in the world with these kind of performance figures. No changes had to be made to the drive train, suspension, or braking-system since the carmaker from Sindelfingen developed the Maybach with a armoured version in mind.
After the integration of the protective features, the Maybach Guard moves onto the standard assembly room in the Sindelfingen production plant, where the car will be customized according to the customers requests, offering almost the same range of standard and optional features available on the Maybach 62 model. This ensures the Guard offers the same luxury and comfort as any other Maybach.