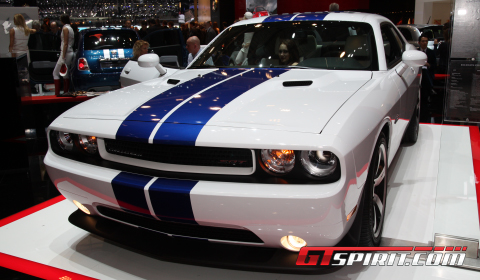 American muscle car manufacturer Dodge, shows it's Challenger SRT8 392 Edition to the Europe during the Geneva Motor Show. We yet knew that the Challenger SRT8 392 has a new 392-cubic inch HEMI V8 powertrain producing 470 hp and 470 lb-ft of torque. That's 90lb-ft more torque at 2,900rpm compared to the previous 6.1 liter V8 engine.
New highly damped shocks offer a firm ride. SRT engineers recalibrated the suspension geometry to improve Challenger's balance, corning ability and steering responsiveness. The performance SRT-tuned, fully hydraulic steering system also has been improved with a new, heavy-duty pump and revised gearing to give drivers more direct feel and on-center response.
To kick off 2011-model year production, Dodge will build 1,492 Inaugural Edition models of the Challenger SRT8 392, all with exclusive content. On the outside, Dodge is offering customization for those first 1,492 owners.