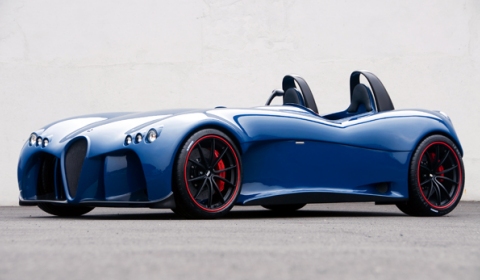 Wiesmann officially unveiled the Spyder Concept at the Geneva Motor Show. The Wiesmann company received requests of customers to build a extreme and purist model, resulting in this design study.
Designed to represented the is the essence of Wiesmann's philosophy, the Spyder is a concept of a lightweight and powerful two-seater for purists. This model has no doors or a windscreen, making it the most extreme car the German manufacturer from Dülmen has ever made. The car is based on the early designs made by the Wiesmann brothers and their experience in building sport cars.
The Wiesmann Spyder is powered by a 4.0L V8 which produces 420hp. Weighing less than 1000kg, the Spyder accelerates from 0 to 100km/h in less than 4 seconds. The top speed is approximately 290km/h.
Wiesmann will investigate the marketability of the Spyder at the Geneva Motor Show. The feedback of customers, partners and experts will influence whether or not the Spyder will be produced. If it does go into production, this won't be before 2012.